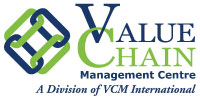 In April 2013 the Value Chain Management Centre (VCMC) became a division of Value Chain Management International Inc (VCM International). (see Media Release)
PLEASE NOTE: All information from the VCMC (www.valuechains.ca) website has been included in this VCM International website.
VCMC is Canada's only initiative dedicated to improving the profitability and competitiveness of businesses operating in the agri-food sector, through promoting and enabling the development of closely aligned value chains. It achieves this by collaborating with Canadian and international researchers, businesses, governments, and practitioners to undertake action research, share lessons learnt and identify factors influencing the performance of agri-food and agri-product value chains.
Value chain analysis uncovers factors that impact the performance of businesses. The VCMC translates insights acquired through academically rigorous research and analysis into education and training initiatives, designed to increase the management expertise of businesses operating in the agri-food sector.
The VCMC also works closely with government and industry associations to increase the competencies of stakeholders in relation to value chain formation and management. This includes partnering with industry stakeholders to identify the impact of policy and legislation on the performance of closely aligned value chains, and recommending modifications that would assist their creation and sustainability.
We work with businesses of all sizes – from sole proprietors through to multi-nationals, whether they want to partner in new chains or are looking to improve the performance of an existing chain. Our clients include businesses that have added millions of dollars to their bottom line and achieved outcomes that they never imagined possible. Some have doubled their profitability in as little as 18 months. We are proud to have collaborated with some of the world's leading innovators and researchers on projects relating to value chain development, lean process improvement, co-innovation, and strategic business development. The VCMC team is also proud to have participated in value chain initiatives that received national and international awards of excellence.